Beechwood Parents' Association provides active and enthusiastic support for the school, arranging several fund-raising and social events each year.
Not only this the Parents' Association also acts as an important channel of communication by providing a class representative for every class in the school. These representatives can bring any concerns, queries or opinions of parents to regular meetings with the Headmaster.
Please see our 'Yearly Round Up' below to get an idea of the kind of events and ideas the Parents' Association have over the year.
PA Contact Details
Please feel free to contact us at any time on the following address: beechwoodpa@beechwood.org.uk
PA Meetings
All PA meetings for this academic year will be held at 8.30am in the Parlour.
The next PA meetings will be held on:
Thursday 15 June 2017
Forthcoming Events
The 'All that Glitters Ball' on May 13th 2017 – to be held at Salomon's Estate
For further details please feel free to contact us via our above email address.
Committee and Class Reps
All parents of pupils in the school are automatically members of the Parents' Association, a subscription being charged with each termly account. At the Annual General Meeting of the Association a committee is elected from which a Chairman, Vice-Chairman, Treasurer and Secretary are chosen. The committee for this year (2016/17) is as follows:
| | |
| --- | --- |
| Co-Chair | Diana Beaumont |
| Co-Chair | Lu Coakley |
| Treasurer | Tors Barwick |
| Secretary | Juliette Ponsford |
| Class Rep Co-ordinator | Rama Morenas |
Stationery Store
The PA Stationery Store will be open in the Prep Hall on Thursdays between 8.00am – 8.30am every Week A.
It will continue to open in Mater Square every Wednesday between 8.00am – 8.30am.
The Stationery Store will once again be offering stationery packs for the start of school in September at a cost of £12.00. This year packs are tailored for both prep and senior school (see below PDF for list of contents).
Please include your child's form, if known, and specify if left or right handed scissors are needed. Packs will be distributed on the first day of term.  Payment can be made by cash or cheque to Beechwood Parents' Association. Please place in an envelope with your child's name on and place into the PA BOX outside the school office during the first week of term in September. Thank you for your support.
Nearly New Uniform Shop
The nearly New Uniform Shop is now located at Beechwood, under the Auditorium, accessed from the rear of the main building. The shop opens twice a term, or by appointment. You can contact the shop on beechwood-uniform@beechwood.org.uk
You can sell items from the current uniform list, provided that they are clean and in good condition.
PA Expenses Claim Form
When claiming expenses for a Beechwood PA event, please collect a copy from Mrs Ros Couldwell, School Secretary in the school office. All expenses need to be submitted within 1 month of the event and cheques can only be issued once an expense form has been completed and submitted to the committee along with receipts – Thank you.
Projects
In recent years, the Parents' Association has raised funds for a variety of projects benefiting the Preparatory and Senior Schools. Some examples are in providing lighting equipment for Performing Arts, a trampoline, playground equipment, graphics and surfaces, supporting the provision of interactive whiteboards throughout the school, and more recently purchasing I-Pads and chairs to facilitate learning in the classroom.
PA Events
Fireworks Night 2016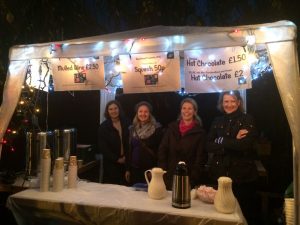 On the 3rd November 2016 the ever popular Beechwood Fireworks night took place. This year the event was moved off Fountain Lawn a little further down by the music hut. It lent itself to a very cosy atmosphere with the glow sticks, hot chocolate, doughnuts and popcorn all under one marquee, alongside the Mulled wine and hot dog tents. It was a rain free evening which enabled the children to enjoy their glow sticks in the dark and Phoenix Fireworks yet again gave us all a spectacular show. Thank you to everyone who organised and helped at the event.
Christmas Fair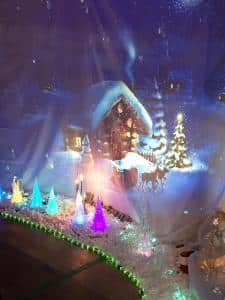 In a word 'Wow' the Christmas spirit officially arrived at Beechwood last Saturday when it was celebrated with a display of festivities at this year's Christmas Fair. The auditorium was transformed with twinkling fairy lights, wreaths and decorated Christmas tress. This year's fair provided something for everyone; the children enjoyed visits to Santa's Grotto and story time with Mrs Clause as well as numerous fun games and activities and for the adults; market stalls selling beautiful gifts and produce and the café for refreshments. The Prep School choir closed the fair with beautiful renditions of famous Christmas songs. The fair was a phenomenal success, with takings in excess of £3400. A special thank you must go to Carol Parisella and Sue Bowles who, as fair co-ordinators, worked exceptionally hard and thanks to all the other volunteers.
Beechwood Bop – Friday 17th March 2017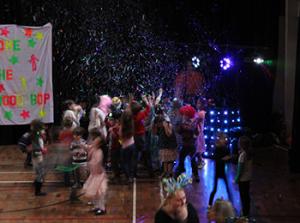 Nursery and KS1 had a fabulous time playing games and dancing with Ryan from 'Simply Unique Entertainment'. The Auditorium was full of bubbles, balloons and bouncing bodies! Once their time was up KS2 burst through the doors and took to the dance floor, where more games of a more competitive nature were thoroughly enjoyed.
With flashing necklaces, bracelets and foam sticks along with popcorn, chocolate and plenty of squash the afternoon flew by and Ryan was a huge success.