Sports Hall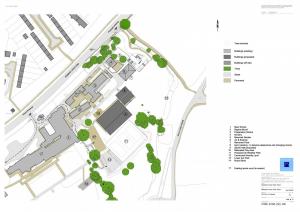 It is with great excitement that following a brief presentation by Mr Lennon to the Borough Council Planning Committee on Wednesday 19th April, Beechwood has now been granted planning permission for the construction of a new Sports Hall and Design Studio with their full support.
Below are the project plans and we would welcome parents to view them. You will be able to see clearly what a huge benefit this is going to have on the Whole School.
Sports Hall Plans
Over the coming weeks Mr Lennon will be planning the 'mobilisation' of the project: developing a detailed design specification, and construction plan which will then allow a better understanding of the construction timeframe. The aim is to realise the project in the 2017/18 academic year.
In terms of the proposal we shall be constructing a new Sports Hall (shown as '9' on the image) between the Prep School and the tennis courts whilst '8' is the existing gym which will be redeveloped to house new design classrooms and also new changing rooms and other facilities for sport.
The basic layout for the Sports Hall will be '5 badminton court size' also featuring a fitness studio, dance studio, viewing gallery and café. Changing rooms will be located on the ground floor of the existing gym which will be connected to the new building.
The first floor of the Design Studio will house Art, Textiles Design, and Photography – a real creative hub for the pupils in both the Prep and Senior Divisions of the School.